| | |
| --- | --- |
| Posted on 30 April, 2015 at 21:30 | |
The Prophetic for the "Month of May" - GREAT GRACE.
- It is a month of storm/tribulation but "MY GRACE" will ease you through the storm
- A month of the supernatural: supernatural intervention in all aspects of God's children lives
- Yes there will be road blocks, do not be afraid because I have gone ahead of you saith the Lord
- Month of Great Perfection and Beautification, through the GRACE I have released saith the Lord
- Many uncompleted projects will be completed this month through the GRACE I have released, saith the Lord of Hosts
- There will be false prophesies of peace this month, but do not be deceived. Rely solely on the FULL GRACE of God. For the challenges will be great BUT His GRACE will bring you out even GREATER & BETTER
- False Prophets shall be exposed, shamed and destroyed this month (JEREMIAH 28). The month of MAY ushers in the season of God's anger/ wrath, exterminating those leading His children astray, false churches, season that cleanses the church, total revamp of the saints, for He has had enough, His return is soon. The Lord your God wants a body/church prepared like the 5 wise virgins. He wants a bride that is ready for the GROOMS return.
All glory and honour be to our God forever and ever. AMEN!!!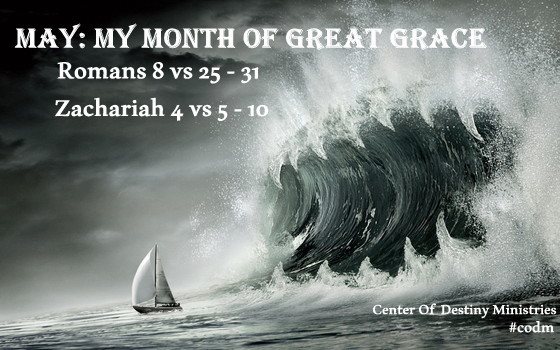 Categories: None